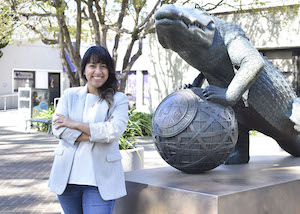 More about Diana Castro
A.A. Liberal Studies A.S. Social Science B.A. Psychology M.A. Education Concentration in Counseling, San Jose State University Pupil Personnel Services Credential, San Jose State University Preparation for LPCC, San Jose State University.
1. Understand the students academic and personal needs. 2. Navigate the college culture together using a collaborative approach. 3. Promote self-advocacy skills and acknowledging that mental health is vital towards students academic success.
My personal experience of navigating through the education system with the help of wonderful counselors has led me to a career in advising. Early in my college career, I realized how important it is to stay connected with one's support system to succeed academically. Being a part of EOPS, serving as an Orientation Leader for NDNU, and having worked for SSS Aspire at San Jose State University solidified my passion for working in higher education especially in the advising field.
What excites me the most about helping students at SF State is being able to spark a flame of interest. To inspire my students to think outside of the box, to reflect on how they can change the world, and to develop a passion and advocacy for what they believe in.
I am filled with joy and purpose when students can walk away from our one on one appointment feeling confident that they can tackle any obstacle that comes their way.
Psychopharmacology hands down! I really enjoyed learning how drugs have an effect on human sensation, mood, thinking, and behavior. Second because I was studying abroad in Madrid when I took the class and I made a friend who till this day I keep in touch with!
While I was studying at my local community college I was working as an after school teacher. We had a soccer tournament and part of my job was to be a soccer coach! I had no idea what I was doing. We just ran and had fun! 
Step outside your comfort zone, get involved, join a club, and ask for help. Never give up, even if you encounter setbacks, keep trying, keep asking, and keep seeking answers. Stay positive and don't take things personal. This is a time for you to explore your interests, passions, and develop a better understanding of yourself.
I love to Zumba, draw, paint, sing, EAT (ask me for authentic Salvadoran places to eat in SF), travel, mental health, recovery, SOUL filling conversations, and spend as much time with my family.