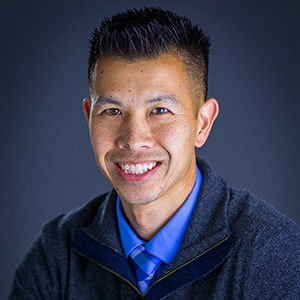 More about Herman (He/Him/His):
B.A. Psychology, Rhetoric and Communications, University of California, Davis
M.S. Counseling, Dual Concentration: College and Marriage, Family, Child Counseling, San Francisco State University
My approach is to support students where they are at and to help them think through their steps to move forward to be successful academically and personally.  Though our office focuses on academics, I know academics doesn't happen in a vacuum so we want to be prepared to talk about the full range of issues that impact academic success.
I always had a passion for helping people.  It was and is always identifying what role I want in helping people.  As an undergraduate at UC Davis, I did peer advising and have never left the counseling field. 
I am most excited about the potential to have a major impact on a student.  The college years are a pivotal time period for students academically, personally and professionally and I have the privilege to contribute to a student's development.   
When I get to see students, I love to talk to students and see them grow.  As a manager, I enjoy helping support my staff.
I don't know if I would say it was the best, but it was memorable.  At UC Davis, Professor Dean Keith Simonton taught a Genius and Creativity psychology class.  The topic was interesting.  He was an excellent professor and I took it with a good friend.  What else could I ask for in a class?
I haven't had any really unusual jobs.  I have worked as a front desk staff person at a fitness center and a cashier at the SFSU bookstore.  
Try and make time for everything.  College isn't just a time to work on your degree. It's the time to grow personally.  You learn about yourself, what is important to you, what you want in life and maybe where you want to get to in life.  You don't do this by studying all the time.  You do need to study, but also make some time to hang out with friends, try new activities, work or volunteer in a field that might be interesting and so on.  Your options are unlimited!
Go Giants, Warriors and 49ers!  I love sports and the Bay Area teams, and will root for the As and Sharks too!  I like to play basketball the most and try to fit that in once a week on top of spending time with family.