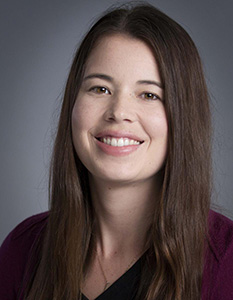 More about McCall (She/Her/Hers):
B.S., Human Development; B.A., Psychology 
M.A., Counseling Psychology, Concentration in Licensed Professional Clinical Counseling and School Counseling with California Pupil Personnel Services Credential
To create a safe, non-judgmental space, where the student can be themselves and share their experiences with me. I'm there to encourage, support, and provide guidance to the student in order for them to be comfortable and confident in their educational journey. If any challenges arise along the way, the student and I work together as a team to navigate through them.
It was through a combination of different life events that led me down this path and made me realize that counseling/advising was a career I wanted to pursue, and working with students was what I was passionate about.
The students at SF State are committed and passionate about going out and making a difference in the world. It's exciting to witness that passion, and to be around the next generation of leaders and change makers.
Seeing students graduate is always one of my favorite things about the job, but watching students create and accomplish the smaller goals that lead up to graduation is  just as special. It's great being part of the student's journey and to celebrate the accomplishments along the way.
A psychopathology course that I took during grad school, and it also happened to be the most difficult course I've ever taken. I did not think I was going to be able to keep up with the class at first, which made me doubt if I should be in the program. I stuck with it and ended up doing really well. It was the hardest I've ever worked in a class. I learned so much in that class, but I also learned about myself and what I was capable of.
I don't think I would categorize any of my previous jobs as unusual.
You got here and you did this, always remember that. Take advantage of all the amazing opportunities and resources that SF State has to offer because it's all here for you!
I grew up in San Diego, moved up to Northern California for college and never left. In my free time, I love meeting up with friends and trying out new restaurants, taking my dog for a walk by Ocean Beach, and a good nap.