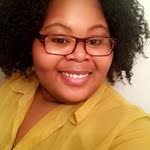 More about Sakiya Gallon-Johnson
B.S. Humanities and Science, University of the Sciences
M.A. Education with Concentration in Higher Education Administration, Louisiana State University
I strive to provide a safe an environment where students feel comfortable and confident asking for help and support. I allow students to guide the interaction and encourage students as they come to conclusions and make independent decisions. I aim to be someone who students can share their goals and accomplishments with.
I always knew I wanted to pursue a career in a helping profession, my academic advisor helped me figure out exactly which direction to go in. The ability to help students combine their natural talents and abilities with their passion is the main source of my inspiration.I am also passionate about higher education and learning, and wanted the opportunity to provide one-on-one support to students.
There seem to be so many unique populations of students at SF State, I look forward too providing you all with tailored support
I love that I have the chance to take part in the educational journey of so many students. Watching students develop and grow is another favorite.
The best class I have ever taken was the Multi-cultural counseling class I took during grad school at LSU. The teacher for this class was incredibly kind and understanding. He facilitated discussions and activities that encouraged the understanding of different cultures. As part of an assignment for this class I visited a Hindu Temple in Louisiana.
I worked for the facilities department at my university as a painter the summer after my freshman year of college. Me and two friends painted the stairs in two of the residence halls on campus. It was a very interesting experience and it paid very well!
Be kind and meet new people! College is tough, but having the needed support makes the process a lot easier.
I love reading and visiting museums. I thoroughly enjoy learning about different cultures and immersing myself in different cultural activities. I enjoy cooking and writing poetry in my free time.